Upcoming Events
Migraine Ireland
Date: 25th March
Venue: The Avon
Dani & Grace
2023 Mini Day Retreat Dates with Dani & Grace in the Avon, on the lakeshore of the Blessington Lake. Bookings now open.
🌱 Sat Mar 25th - SPRING EQUINOX
🌱 Sun May 7th - BEALTAINE 🌱 Sun July 30th - LUGHNASADH We have co-created a morning of - Yoga, movement, meditation, enquiry, ritual, Celtic wisdom, healing reiki, DoTerra essential oils, rest, retreating and hibernation!
Contact Dani on 0872802107 or daniellegriffinyoga@gmail.com@daniellegriffinyoga Contact Grace on 0872450587Gsheridanwellness@gmail.com@gsheridanacuwellness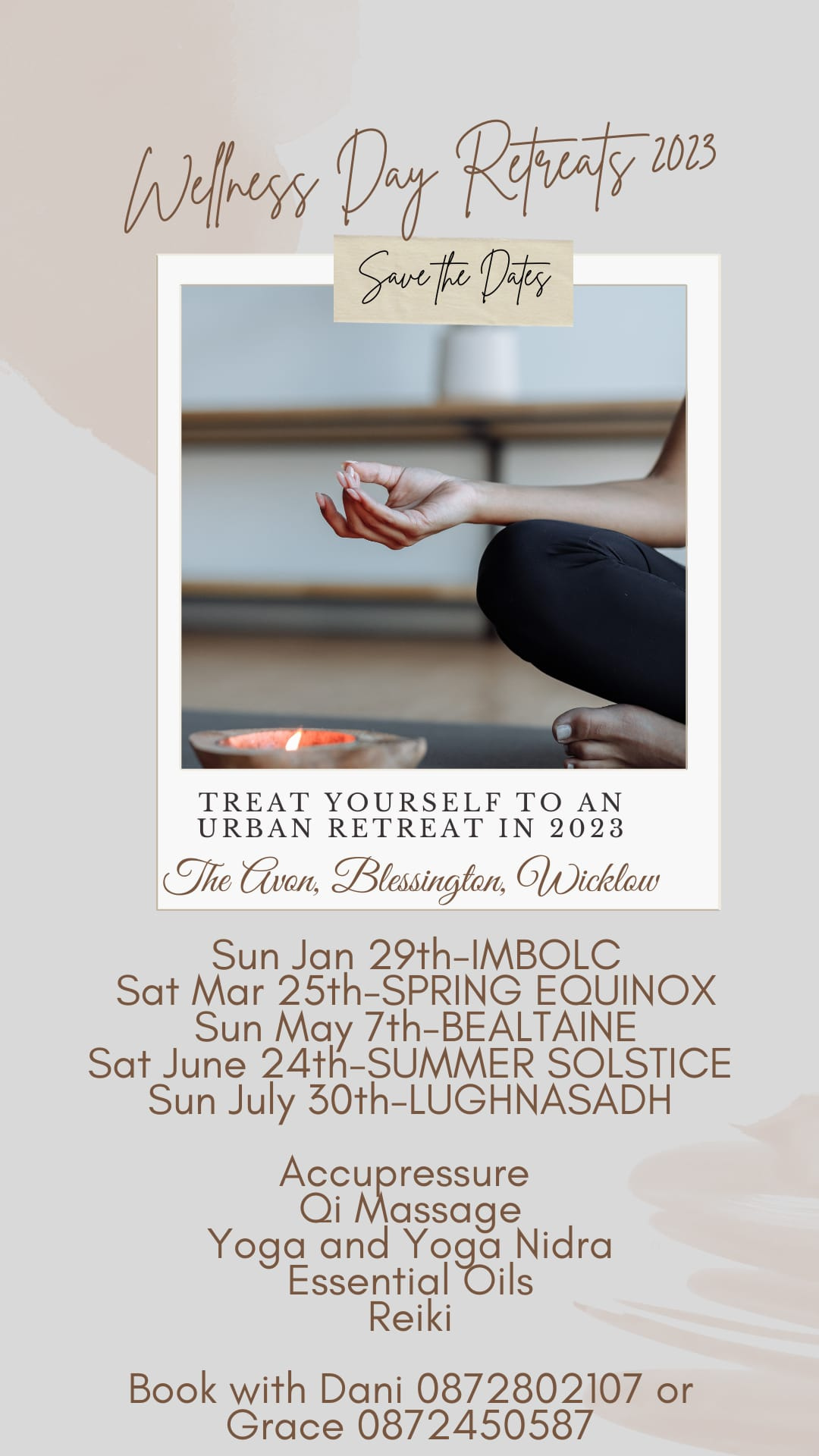 The Positive Habit - Fiona Brennan
Date: 26th March
Venu: Russborough Room
Grief Ireland - Kathie Stritch
One day Grief Retreat
Date: 8th April @ 9 am
Venue: Russborough Room
Lakeshore Wellness - Yvonne Skelly
Holistic approach to Menopause & Living your purpose with Julianna Jay
Date: 7th April @ 10 am
Venue: Russborough Room
High Definition - Warrior's Way Throwdown
Date: 22nd & 23rd April
Venue: The Avon
Breathe Well - Maria Connolly & Emma West
Date: 22nd April @ 12noon
Venue: Russborough Room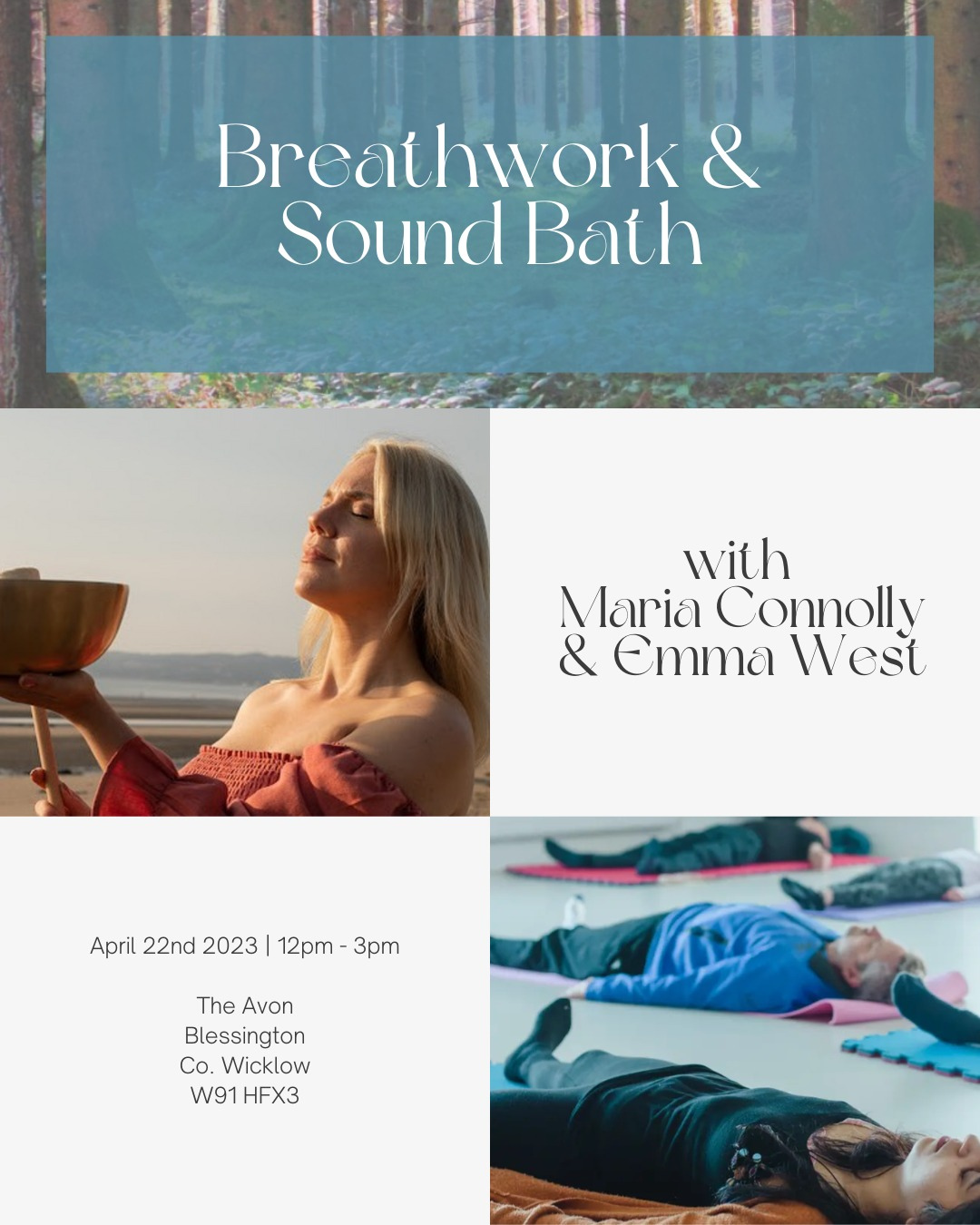 Past Events
My Lovely Horse Rescue - 17th March 2023

ABP Training with Shane Rispin - 25th & 26th Feb 2023

Tapping for Mums with Sarah Tobin - 24th - 26th Feb 2023

The Wellness Coach with Lorraine Hogan - 19th Feb 2023

WimHof Fundamental Workshop with Maria Connolly - 18th Feb 2023

Wellness Festival - 12th Feb 2023

Align with Leanne - 11th Feb 2023

Imbolc with Dani & Grace - 29th Jan 2023

WimHof Fundamental Workshop with Maria Connolly - 7th Jan 2023

Wellness Festival - November 20th 2022

Culture Night - Wicklow West Chamber Music Festival - Friday September 23rd 2022

Wellness Festival - Sunday 18th September

Liffey Lakes Paddle Race - 10th September 2022

Splash Out for Rape Crisis North Easy Kayak Event - Saturday 27th August

Saturday August 27th-Ballymore Eustace Band - 3.00pm - 6.00pm

Twisted for Jigsaw by Lidl Ireland

Dublin Gospel Choir - Sunday 14th August

- 3.00pm - 6.00pm

Rob Strong - Sunday 7th August

- 3.00pm - 6.00pm

Canoe Marathon Ireland Short Course National Championships - Sunday July 17th

Migraine Ireland 50-100km Cycle - Saturday June 25th

Quiz Night in Aid of Spinal Injuries Ireland - Friday 27th May 7pm

Dare to be Brave - Children's Health Foundation Adventure Series - May 25th - 28th

Wicklow Bike Week - May 2022

Cycle the Lakes (RMHC) - Saturday May 14th

Paddy Casey Live at The Avon - Saturday 7th May

Warriors Way Throwdown - Saturday 23rd April

Pawrade in aid of Dogs Trust Ireland - March 17th

Spooktacular Halloween Extravangaza - October 31st